Certified Service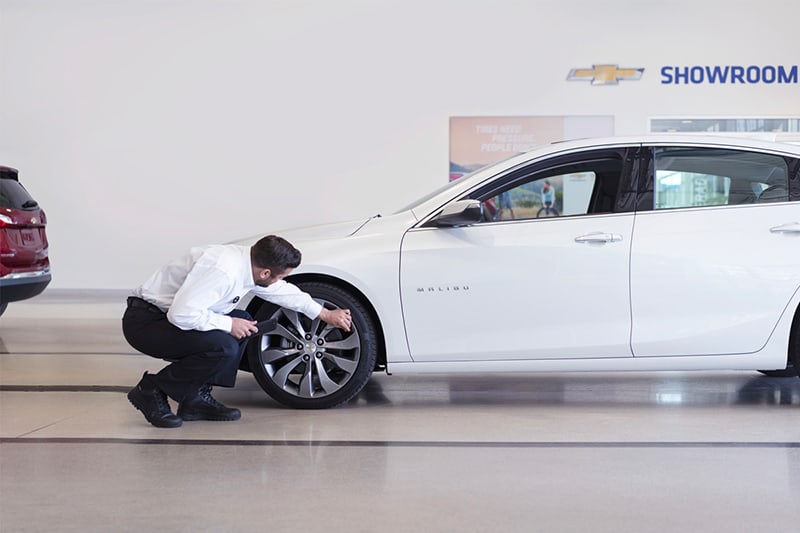 Auto Service Offers and Pricing
When you visit our certified service center, you can count on enjoying competitive prices on car repairs and maintenance. Whether it's an oil change or something much more involved, we can help you save while keeping your vehicle running smoothly on Wallingford roads. Save today with the service center and car repair shop at Hamden Chevrolet!
Maintenance
Need New Tires?
When you're driving around Milford, your tires are the first and only contact between your vehicle and the road. With that being said, it's vital that you get a set of tires that allows for optimal performance and safety wherever you go.
Fortunately, when you get car maintenance in Hamden at our car repair shop, we can inspect your tires and even provide you with the best tire options for your driving habits.
Find Tires
Need An Oil Change Near North Haven?
Many new vehicles come equipped with an oil life monitoring system that can let you know when it's time for an oil change. However, even if you're driving in an older ride, it's best to stay up to date on oil maintenance so that vehicle continues to perform as intended. Get an oil change at our auto service center today.
Learn More
Multi-Point Vehicle Inspection
In addition to standard car repairs and maintenance jobs, we're more than happy to perform multi-point vehicle inspections. This is a great way to get a thorough assessment of your current vehicle or a potential new ride that you may be considering.
By getting a multi-point vehicle inspection, you can protect yourself before you make an automotive investment. Best of all, the certified service experts from our auto service center have been expertly trained to know exactly what to look for when you perform a multi-point vehicle inspection. Get your vehicle inspected today!
The Multi-Point Vehicle Inspection form uses a simple color-coded key to assess maintenance terms:
Red indicates items that need immediate attention.
Yellow indicates items that should be addressed in the near future.
Green indicates no items to address.
Hearing Brake Noise?
Even though many of our vehicles come with plenty of power, you'll want to ensure that you have the braking performance to boot. When you get car maintenance in Hamden at our service center, we'll make sure to regularly inspect your brakes and ensure a safe driving experience around town.
When you need new brakes, the GM-certified service experts at our car repair shop will be more than happy to help.
Learn More
Battery Trouble?
An often overlooked item is your vehicle's battery. However, it's an important component of your vehicle as it provides energy to start the engine and supply power to multiple accessories.
Keep in mind that extreme temperatures can also decrease your vehicle's battery lifespan. You don't want to be caught stranded because your vehicle's battery needs to be replaced so get battery car maintenance in Hamden today at our service center.
Learn More
Contact the Hamden Chevrolet Service Center Today!
We look forward to assisting you with all of your car repair and maintenance needs at Hamden Chevrolet. While you can always visit us in Hamden, we understand that sometimes you may not have time available to stop in. If that's the case, feel free to contact us online. You can also reach us at the phone number listed below. We look forward to working with you!
200 Skiff Street, Hamden, CT 06517